Five Things All Professors Should Know
August 1, 2011 § 14 Comments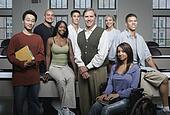 As school begins to start at universities around the country, one of the things about which I always get the most nervous is how my professors will react to my needs. Usually, the e-mail and first face-to-face interactions clear the air of most stigmas and things right away, but just in case you (or your professors) run in to any problems, here are ten things that professors should know about (most) students with disabilities.
Students with disabilities are students first. Think back to middle school. You didn't want to be called out in the middle of the hallway simply because you had a Texas-sized zit in the middle of your forehead.  If a student in your class is doing something a little differently or acting a bit differently, wait. Wait until after class to discuss anything you may think is questionable. Pull them aside privately and let them know your thoughts. As with any student, those of us with disabilities enjoy having the opportunity to educate you and explain how things work. In this situation, don't be afraid to ask the student if he/she could find an alternate way to complete the task. Believe it or not, but just as you are willing to accommodate us, (most) of us are more than willing to accommodate you. Just ask!
It helps (most) of us to have a way to express ourselves in terms of our disabilities. Some students with disabilities are uncomfortable with disclosure in the classroom in terms of openness with classmates, and that's perfectly understandable. Those of us who bring up the fact that we would like to present on a topic related to our disability that fits in with content view it as a way to advocate and educate. If at all possible, allow your student the opportunity.  If you teach another course in which the material may be more appropriate, let us know. It's always a joy to educate, and the few times that I've done lecturing for my mentor, it's the most fulfillment I've gotten from anything in a long while. And if your student needs assistance, don't hesitate to give them my contact information!
Accommodations are tried and true methods that just work. You probably know that specialists on staff at the university have previously approved accommodations granted to a student, and these accommodations are based on medical documentation and a review of past histories from high school as to which accommodations were used and most effective. If a student is using accommodation in a way that you deem inappropriate, let the student know, and then be open to the reasons that they give and the way that they are explaining themselves. Yes, you have authority over your classroom, but ultimately, students know their needs and accommodations best. Grant them that expertise and authority over their personal learning process, and it will be freeing for both of you!
One-on-one time works like a charm. In my experience as a student, students with disabilities are the most common type of student you'll see show up at your door during office hours is a student with a disability. Why? There are three main reasons, I would say, for most of us. One is that some of us have immature central nervous systems, making the chaos of a classroom difficult to tune out. (This is mostly true for me during group activities when everyone is all around the room.) Secondly, sometimes, other things are in our way during lecture. During a tough pain cycle, it's difficult to intently focus to the degree that is expected and necessary to retain material. Lastly, a professional relationship with most people with whom we come in contact is often helpful for letting both parties know the authenticity of your efforts. Some of us (like myself) enjoy a really intellectual chat, and my professors are some of the smartest people I've ever met.
Medical complications may arise. My disability does indirectly affect my academic experience in the classroom, but it also means that I may have a rough day with pain management, with balance issues, and with general mobility. Those are the days that you may receive requests for extended time to complete a paper or other assignment. Most often, I have attached the work that has already been completed on the assignment so that the professor understands that I'm not buying time. Usually, I can anticipate when things are going to be shaky a day ahead of time, as with most motor oriented disabilities, so you may hear from the student a day ahead of time. If at all possible, grant what you think is appropriate. Most students with disabilities work harder than the average student just in everyday functions, but don't be afraid to ask questions.
The number one thing that you should know, though, is that it's perfectly okay, in any situation, to ask questions. You do have a right to know why.
Students and professors, what are your top five things that you want other students and professors to know about students with disabilities? 
§

14 Responses to Five Things All Professors Should Know