Electric toothbrush are recommended by most dentists nowadays. Their superior cleaning efficiency, plaque removal and different cleaning styles are just a few features that make them better than manual ones. I recently went on a hunt for the best electric toothbrush out there, but choosing the right one was much harder than I thought it would be. With so many brands and models, finding the best one was a very hard task.
How to chose the right brand?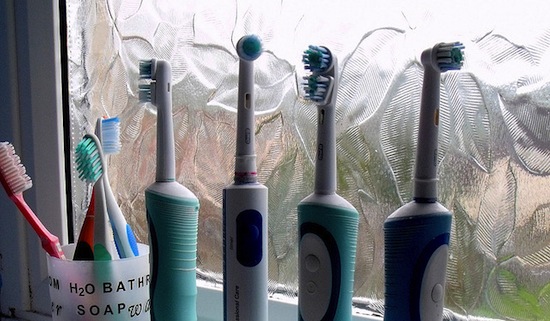 There are at least 100 different models on the market at the moment from 4 most popular brands. To make it even harder, each one of those 4 brands claims their products have advantages over the rest of them. After few hours of researching, I found that Rotadent toothbrushes are simply too expensive and they lack quality, and Waterpik doesn't live up to expectations. With more than 50 years of experience in dental care area, Braun and Philips are simply the best electric toothbrush brands in the world.
Battle between Oral B and Sonicare
Choosing between Oral B and Sonicare took the most of my time, but thanks to this toothbrush comparison, I realized both of them have their cons and pros.
Philips and Braun are in a war for more than 20 years. It can be clearly seen in their marketing approaches and strategies. While they are both advertising their own products, they are also often giving false claims about other brands. There have been more than 200 clinical studies combined comparing Oral B and Sonicare, but practically all of them were conducted by one of these two brands, so it's impossible to choose a winner based on those biased studies alone.
Oral B toothbrushes use oscillating, rotating and pulsating brush movements. They call it 3D cleaning action. Sonicare toothbrushes use sonic technology, which means that brush head is vibrating at higher speed with up to 31000 brush strokes per minute. For comparison, average toothbrushes only produce about 5000 brush movements per minute, that's more than 6x less than what you can get with leading Sonicare technology.
Only clear difference I could find is price of replaceable brush heads. Oral B and Sonicare produce similar priced toothbrushes in $30 to $200 range, but Oral B brush heads are about 2x cheaper.
So, how did I choose the best one?
After some more research, it all came down to how much money am I really prepared to invest in electric toothbrush. I really want to invest it into something that will result in a better oral care, so I decided to go for the most expensive one from one of top 2 brands. Best Sonicare toothbrush is DiamondClean and best Oral B toothbrush is Precision Black 7000. They stand out with their features and unfortunately with their price as well.
I never thought that I'll choose my electric toothbrush based on design only, but are simply no proven differences between efficiency of the best ones. Precision Black 7000 looks better to me and it has 1 more cleaning mode to offer than DiamondClean.
Conclusion
It really is pointless to study back and forth. Ask yourself how much are you willing to spend on an electric toothbrush and choose one with Braun or Philips logo on it.